CyncHealth reports, at its June 15 HIT Board meeting, that Nebraska is the first state reporting all pharmaceutical prescriptions. Details of the meeting follow a brief look at global health goals and life expectancy.
Global healthcare goals and Nebraska's PDMP
In 2010, Bill Gates explained in this TEDx, Innovating to zero!, the urgent need to reduce the world's population, by saying, "The world today has 6.8 billion people. That's heading up to about 9 billion. Now if we do a really great job on new vaccines, health care and reproductive health services, we could lower that by perhaps 10 or 15 percent."
"Now if we do a really great job on new vaccines, health care and reproductive health services, we could lower [the world's population] by perhaps 10 or 15 percent."

Bill Gates, Innovating to zero!
Eleven years later, according to the Peterson-KFF Health System Tracker, the U.S. has the lowest life expectancy, 76.1 years, among large, wealthy countries while it far outspends its peers on healthcare, $12,318 per capita.
Many reports show, the major causes of declining life expectancy are outcomes such as opioid overdoses, smoking and obesity. These reports support the $122 million in contracts awarded to CyncHealth since 2019 for prescription drug monitoring in an effort to improve population health, and the focus on top-down, symptom-based healthcare.
However, other sources indicate that the decline in life expectancy is due primarily from symptom-based healthcare, one cure for one disease, One Health. And, that the cause of disease and the disparity in life expectancy is caused by people's limited knowledge of, and access to nutrient-dense, toxin-free food, and the extreme censoring of early, effective out-patient treatments and traditional healing methods.
Unlike Missouri, with its PDMP program last to be approved in 2021, Nebraska is leading the way in outcome-based surveillance and tracking of population health with no opt out option for Nebraskans. Going forward it will be important to highlighting the costs, financial and otherwise, and the actual impact of mandated, surveillance, symptom-based healthcare.
As people calling for diversity of thought, and the inclusion of age-old healing knowledge, continue to be marginalized and silenced, states like New Hampshire stand as an example of what Nebraskans can achieve in working toward legislation that, at the very least, attempts to protect personal information.
HIT Board meeting details
The following is a personal account of the HIT Board meeting with source links provided for reference only. Meeting account recorded in accordance with Nebraska's open meetings act.
At its June 15th recorded Zoom meeting, CyncHealth, the State of Nebraska's administrator for the Health Information Technology (HIT) Board, covered the data request process, data security certification received in November 2022, and the annual survey by the PDMP TTAC, an organization funded by the U.S. Department of Justice. The next HIT Board meeting will be in person at noon on September 28, 2023, at CyncHealth in LaVista, Nebraska. Questions can be directed to policy@cynchealth.com.
Prescription Drug Monitoring Program Training and Technical Assistance Center
Kevin Borcher, CyncHealth Vice President, Pharmacy Informatics, reported responses to the Prescription Drug Monitoring Program Training and Technical Assistance Center (PDMP TTAC) Annual Assessment Survey
PDMP TTAC Annual Survey

The PDMP TTAC is sponsored by The Institute for Intergovernmental Research (IIR), a national organization funded by a grant from the U.S. Department of Justice.
The PDMP TTAC provides support and resources for PDMPs, and facilitates coordination and consistency between the states, academia, the federal government, and other non-governmental organizations, in order to implement data sharing and workflow integration.
Borcher reports that 10-12 other states are watching Nebraska's implementation. He notes that other states will benefit from Nebraska's "heavy lift".
Over one hundred new fields have been added to the data collection to benefit public health in epidemiology, population health, and better patient matching.
Survey sample questions include: the estimated percentage of healthcare providers integrated in your State, District, Commonwealth or Territory; the number of controlled substance prescriptions filled; the number of prescription errors identified during transmission from dispensers (including patient name, address, and date of birth); and, patient prescription history.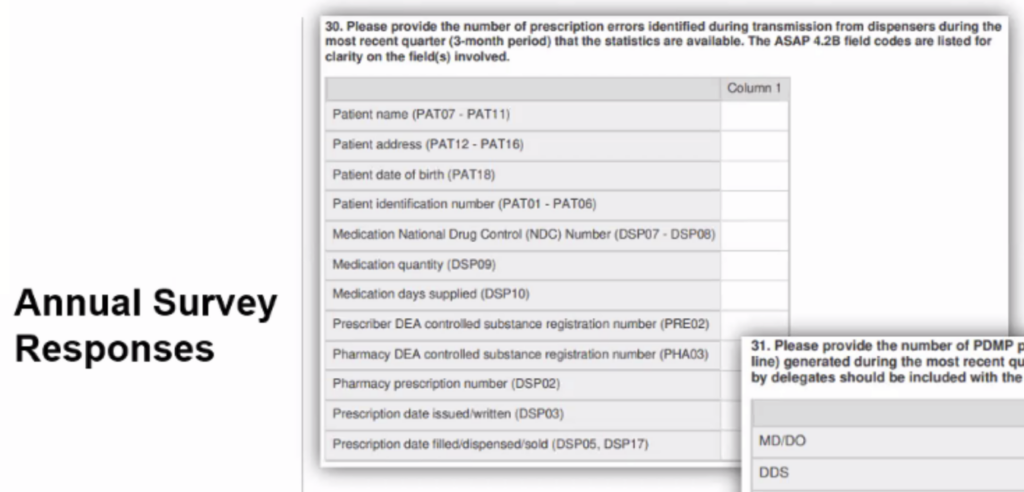 Data Requests: the Project Review and Approval Process
Larra Petersen-Lukenda, Interim COO for the Nebraska Healthcare Collaborative and the CyncHealth Foundation and CyncHealth Vice President of Population Health, shares Collaborative and Foundation current projects and processes.
The Nebraska Healthcare Collaborative & the CyncHealth Foundation
The Nebraska Healthcare Collaborative (the Collaborative) fosters population health projects that may benefit from access to pharmacy or prescription data. The Collaborative receives support from Nebraska Deptartment of Health & Human Services, Medicaid managed care organizations (MCO), and CyncHealth's larger participant membership that launched the organization operationally in 2019.
The Collaborative is the academic entity, and partners with the various Nebraska academic centers. The Collaborative is looking for regional healthcare partners to also share opportunities and insights.
Identified by Nebraska DHHS, the Collaborative supports two endowed chairs, one at Creighton University and one at the University of Nebraska at Kearney. These chairs partner with CyncHealth to understand both sound methodology and the benefits of various projects to population health in Nebraska.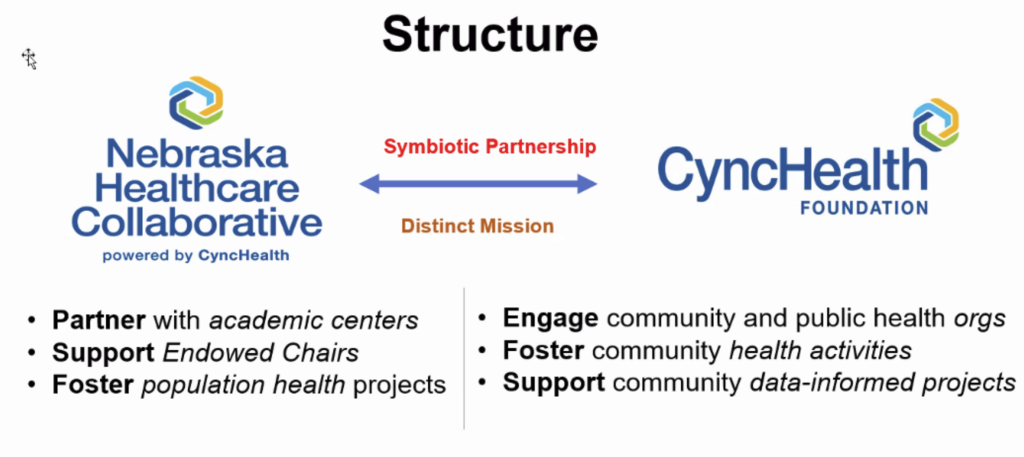 Before a project is brought to DGC / HIT Board for review and approval, a project is submitted through the Collaborative's web page.
The bottom of the web page contains the proposal manual, video and submission resources. Anyone can go to the web page to request Health Information Exchange (HIE) data, clinical or social care data, as well as prescription data.
CyncHealth works with community-based or academic researchers to understand the uniqueness of the HIE and the types of data standards.
Request is brought to DGC Partners and the HIT Board for approval to ensure the project is a relevant and appropriate use case before a project moves forward. Once approved as a valid, permissible use and disclosure case, the project is brought to the Collaborative Board to assure the project aligns with the mission and vision of the Collaborative or Foundation, and is focused on the benefit to population health for Nebraskans, or broadly the Midwest region.
Petersen says of the Collaborative, "we certainly feel quite lucky" to be selected as a data partner with organizations like the Robert Wood Johnson Foundation (RJWF) and global firms like Orion Health and Milliman. These organizations are looking at unique health outcomes, rural versus urban and general public health.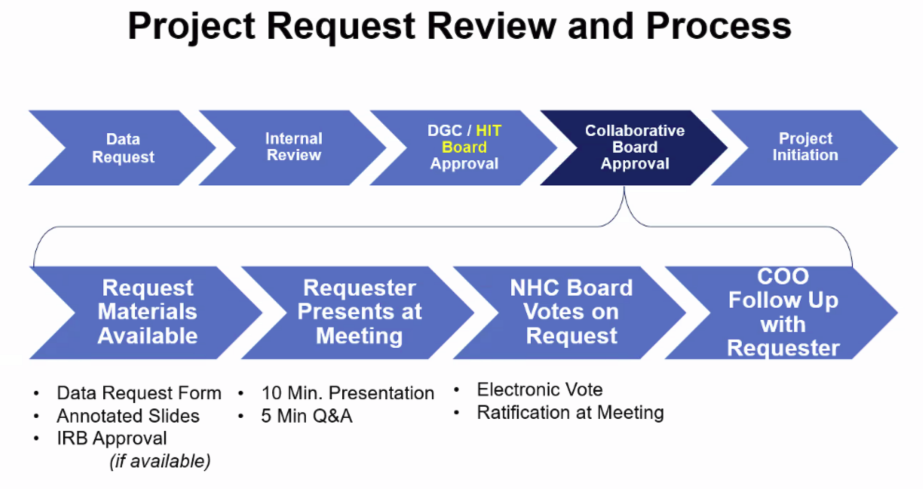 Projects
Two current projects involve maternal health, and two pending projects identify partners RWJF and NCQA eCQM.
Other projects Petersen identified that would help advance public health priorities are: comparing maternal and child health data to national standards; identifying disparate use of medication classes, especially in children; environmental impacts, like lead, on children; and the use of a dashboard or public insights report to help advance opportunities.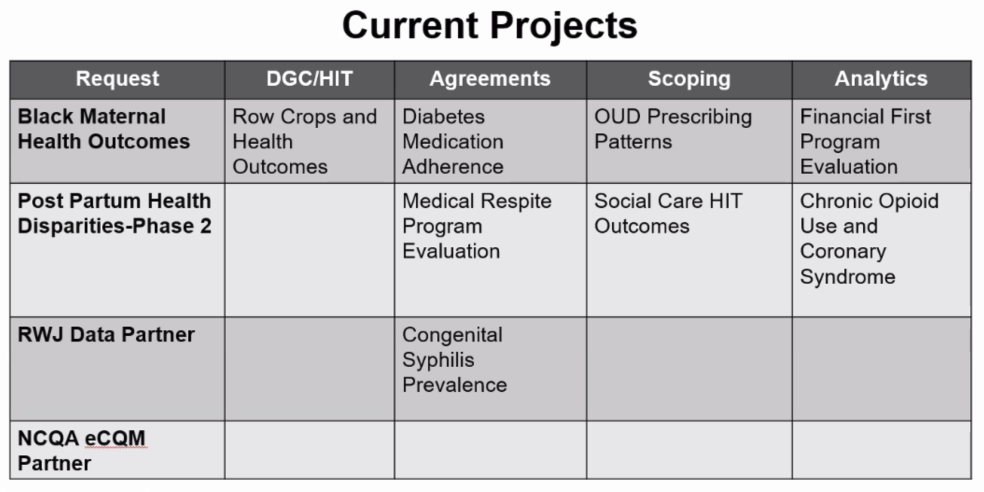 The CyncHealth Foundation, otherwise known by the trade name Midwest Institute for Citizen and Community Health, advances a distinct mission focusing and expanding academic interests to engage community and public health organizations, and to ensure that data is used with actionable insights and really promoting the benefit of population health within the community.
The Foundation is supporting two projects underway to look at neighborhood and community health improvement efforts, and to provide the projects with data to evaluate return-on-investment and population benefit.
PDMP Data Security
Robert Wagner, CyncHealth Chief Information Officer, reviews progress on CyncHealth's data security certification.
In early 2021, CyncHealth decided they needed to align their security program with a certain framework, and the framework they chose was the HITRUST framework. HITRUST is specific to healthcare and also aligns with several national standards, controls, policies and procedures.
CyncHealth has achieved HITRUST certification and SOC 2 Type 2 security attestation
As a service organization, certification covers every service CyncHealth offers including Amazon Web Services, Health Information Exchange InterSystems, Enterprise Master Person Index, Event Notification Services, Direct Messaging – Health Information Services, and Pharmacy Information Exchange – Prescription Drug Monitoring Database
CyncHealth monitors security threats by looking at past trends to predict future patterns. The most prevalent attack vectors now is text messaging, people are beginning to get personal information through text messaging and is where compromises are beginning to happen. They partner with managed security firms who provide industry insights.
Related information
CyncHealth contract scope– CyncHealth, under the name Nebraska Health Information Initiative through Nebraska DHHS, has been awarded nearly $122 million in state and federally-funded contracts since January 2020 for the purpose of maintaining and enhancing the Nebraska Prescription Drug Monitoring Program (PDMP), and expanding the Health Information Exchange (HIE) in accordance with the Centers for Medicare & Medicaid Services (CMS) Implementation Advanced Planning Document, and to enable Medicaid Electronic Health Record Incentive Program providers to connect to NeHII (CyncHealth) and exchange health information through HIE.
Endowed Chairs – through the Nebraska Healthcare Collaborative, named CyncHealth Endowed Chair for Population Health at Creighton University is Scott Shipman, MD, MPH, currently serving as the director of clinical innovations for the Association of American Medical Colleges in Washington, D.C., and for the University of Nebraska at Kearney is Liaquat Hossain, Professor, Cyber Systems.